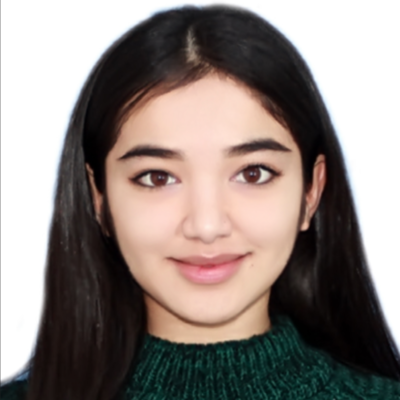 Dildora Matkhalikova
Majoring: International Marketing
Tashkent
About Dildora Matkhalikova:
Matkhalikova Dildora Ravshanovna
Born in Tashkent in 20/11/1999 year
Skills
Proficient in MS
Office Microsoft Word, Excel, Power point)
Junior Developer (HTML, CSS, Javascript)
Languages
Uzbek native
Russian C1
English IELTS 6.5
Turkish B1
Experience
Manager of Quality Control Department
Green Way LLC (Logistics Specialist Coordinator).
Tashkent
Updated quality control standards, methods and procedures to meet compliance requirements.
Monitored and worked on companies KPIs
Deal with shipment receipts and shipment deliveries
Making set ups and contracts with brokers
Sales Manager
Sarpil Botique, Tashkent
Resolving customer issues quickly to close deals and boost client satisfaction.
Coached soles personnel, assisting with individual selling and helping soles representatives reach torgets.
Moking forecost for future delivers
Strategic planning
Assistant Manager
Intercontinental Hotel, Tashkent
Organizing meetings, appointments and events
Manage daily operations
Analyzing Balance sheets Food and beverage department)
Education
Hospitality And Management
Tourism And Hospitality Professional Collage 
Tahskent
BBA: International Marketing
Yeoju Technical Institute - Tashkent
Professionals in the same Marketing / Advertising / Public Relations sector as Dildora Matkhalikova
Professionals from different sectors near Tashkent
Jobs near Tashkent
---

ROMANOV MEHANICA GROUP XUSUSIY BANDLIK AGENTLIGI

Джизак, Uzbekistan

Full time

Обязанности: · - Активный поиск и привлечение новых клиентов. · - Ведение переговоров и заключение договоров. · - Выявление и анализ потребностей клиентов, предложение оптимальных решений. · - Подгото ...

---

AQUA PRODUCTS

Джизак, Uzbekistan

Full time

Требования:пол значения не имеет Обязанности: Работать с компьютерным и офисным оборудованием; · • Работать с системами отчётности компании, базой данных типовых предложений о продаже продукции и услу ...

---

ROODELL

Джизак, Uzbekistan

Full time

Responsibilities: Подготовка договоров и обработка · Коммерческих предложений (составление конкурентного листа и его анализ) · Подготовка всех носителей для завода ( баннеры, постеры, корпоративные ...